Early
In order to have a healthy smile, your child needs teeth and jaws that are properly aligned. The American Association of Orthodontists (AAO) recommends that your child get a check-up with an orthodontist at the first recognition of the existence of an orthodontic problem, but no later than age 7. Some orthodontic problems may be easier to correct if they're found early. It gives us the opportunity to recommend the appropriate treatment at the appropriate time. While orthodontic treatment most often begins between the ages of 9 and 14, some children's orthodontic problems can benefit from earlier treatment. Some of the benefits include the ability to:
Guide jaw growth
Lower the risk of trauma to protruded front teeth
Correct harmful oral habits
Improve appearance and self-esteem
Guide permanent teeth into a more favorable position
Improve the way lips meet
Two-Phase Treatment
Two-phase orthodontic treatment consists of two separate times when a child receives orthodontic treatment.
A first phase of treatment is done while the child still has many or most of their primary or "baby" teeth. This phase of treatment benefits patients physically, enabling them to bite or chew more effectively. It may reduce the risk of breaking front teeth that protrude. And for many patients, there is improvement in self-esteem.
Most patients will require a second phase of treatment, often with traditional braces, to complete the tooth and jaw alignment that was started during the first phase of treatment. This will take place when the child has most or all of their permanent teeth. A second phase of treatment moves permanent teeth into their final positions.
Comprehensive Treatment
Most children are ready for orthodontic treatment between the ages of 9-14. This is when most or all of the child's permanent teeth have erupted. Typically, appliances are put on the upper and lower teeth. Appointments will be scheduled every 4-8 weeks after the appliances are placed for adjustment appointments. These appointments are usually quick 20-30 minute visits. Orthodontic treatment averages less than two years, but can range from one to three years. When "active" treatment ends, retainers are prescribed for most patients to keep teeth in their new positions.
Adult Treatment
Today, one orthodontic patient in five is an adult. You're never too old to benefit from orthodontic treatment. No matter what your age, proper alignment of teeth contributes to your good health and a beautiful smile.
Is orthodontic treatment effective for adults?
Age is not a consideration when it comes to orthodontic treatment. Healthy teeth can be moved successfully at any age. Orthodontic treatment creates a better bite, making teeth fit better, and decreases the risk of future dental problems regardless of age.
Can I get an appliance that is less noticeable?
Thanks to the variety of "appliances" (such as clear aligners and various bracket types) that are available, adults may be able to inconspicuously achieve the great smile they want. Many of today's treatment options are designed to minimize the appearance of the appliance and better fit an adult lifestyle.
Will orthodontic treatment fit my lifestyle?
You can do almost anything during orthodontic treatment — sing, play a musical instrument, dine out… Some temporary adjustments will be necessary, but if you're like the vast majority of adult patients, you'll adapt quickly
I'm missing some teeth. Can orthodontic treatment improve my bite?
Whether you are planning to replace missing teeth or not, you may benefit from a consultation. If replacements for missing teeth are planned, orthodontic treatment can help keep the necessary space open. If no replacements are planned, your teeth can be stabilized your so that shifting does not occur or is minimized. We will work with your dentist or dental specialist to achieve the best result.
I've been treated for gum disease. Can I have orthodontic treatment?
We will need to consult with your dentist and/or periodontist about the health of your gums. If you are a candidate for orthodontic treatment, you will continue regular visits with your dentist and/or periodontist.
Invisalign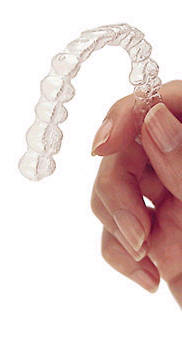 The invisible way to straighten your teeth, without braces.
Invisalign® can give you the beautiful straight teeth you've always wanted. It works through a series of invisible, removable, and comfortable aligners that no one can tell you're wearing. So you can smile more during treatment as well as after. Invisalign® has been proven effective in clinical research and in dental and orthodontic practices nationwide.
How Does Invisalign® Work?
You wear each set of aligners for about 2 weeks, removing them only to eat, drink, brush, and floss.
As you replace each aligner with the next in the series, your teeth will move – little by little, week by week – until they have straightened to the final position your orthodontist or dentist has prescribed.
You'll visit us about once every 6 weeks to ensure that your treatment is progressing as planned.
Total treatment time averages 9-15 months and the average number of aligners worn during treatment is between 18 and 30, but both will vary from case to case.
Orthognathic
There are cases where orthodontic treatment alone will not correct the abnormalities of the facial bones and teeth. Corrective jaw surgery (orthognathic surgery) may be required due to the severity of the skeletal problem. These abnormalities may cause problems chewing, talking, sleeping and other normal functions or activities. Orthognathic surgery will help address these problems and improve the overall function and appearance.